What is GATE?
GATE stands for Gifted and Talented Education.
Giftedness refers to a high intelligence or aptitude, while talent refers to a high level of performance in areas such as music, art, craft, dance or sport.
Taupo Primary School is committed to supporting and enhancing the needs of all students. The identification of gifted and talented students will better enable the school to provide differentiated teaching, appropriate opportunities, challenge and support to develop their potential and extend their capability. Identification of Gifted and Talented students is three fold; teachers, parents and students. There is on-going work to add precision to differentiated programmes for gifted and talented students.
GATE Activities:
Art Workshop with Michelle Edlin
On Monday 23rd March Michelle Edlin (a local artist) came in to run a workshop with nine of our talented artists. She taught them about composite colours and they then constructed a colour wheel to use in their projects to help with colour selection. The next project focused on composition. The children used shapes and colour to create a piece of art. Thirdly the children learnt about pop art and created a Kiwiana themed piece of pop art using two composite colours.
B&W Innovation Award
Congratulations to Taine who was the 2014 recipient of the B&W Innovation and Creative Thinking Award. Well done Taine we are very proud of you. Since Taine first arrived at Taupo Primary school he has stood out from the crowd. He follows his own path and is not easily swayed from it. Taine can be found in the playground at both morning tea and lunch, helping the juniors to entertain themselves, sorting out disputes and re-directing students to new activities. He has an innate sense of right and wrong and is always displaying initiative not commonly seen in the average 11 year old. An example of Taine's initiative was when as a 9 year old, he took it upon himself to write to the Mayor to ask him to consider creating a "safe zone" outside our school. Taine had seen a need to make traffic on Tamamutu slow down near our school. The mayor duly responded that he would look into it. When members of our staff need help with assemblies, they always ask for Taine and he never lets them down. Nothing is too much trouble for Taine. He has the ability to anticipate what needs to be done before others realise the same. Finally, Taine was recognised as a promising leader and was awarded the Sir Peter Blake Young Leader's Award earlier this year.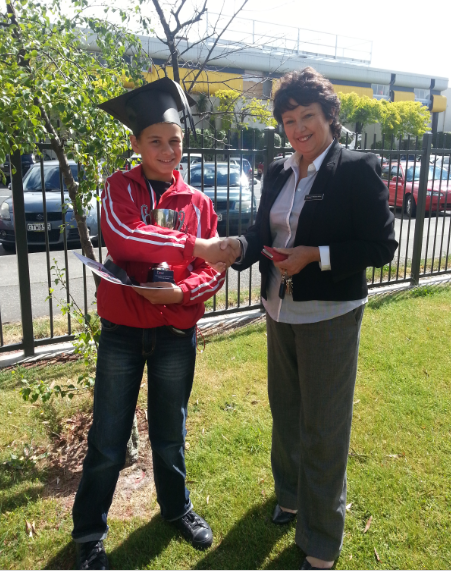 Leadership Day
On Thursday 23rd October, Taupo Primary hosted a Leadership Day for Year 5 children from around the Taupo area. The day started with a whakatau (welcome) followed by an opportunity for children to showcase their school, inspirational guest speakers Ben Townley and Jaime Fitzgerald, team building activities and a technology challenge. Lunch was cooked and served by a fabulous catering team made up of Year 5 & 6 children and parents. We also had a media crew of Year 6 children who captured the day through video and photography.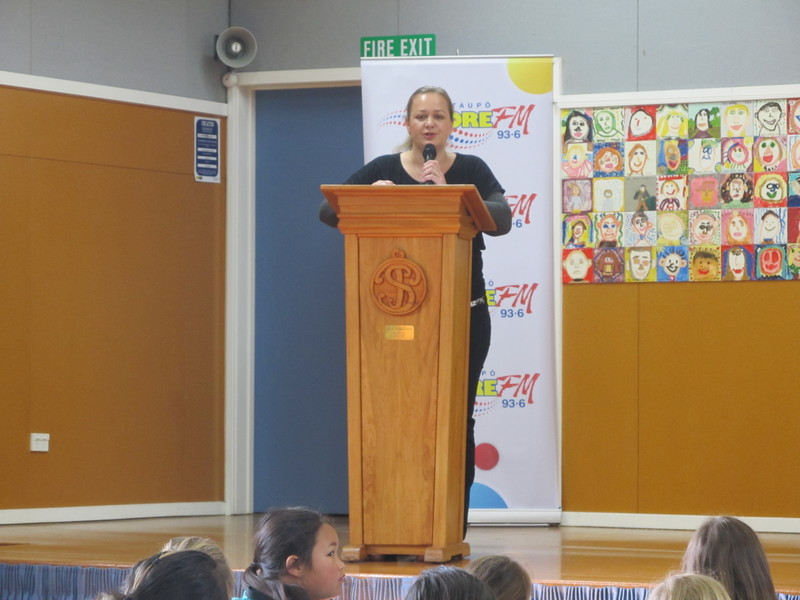 Maths Matters
The Maths Matters competition will be held on Wednesday 17th September. We will be entering three Year 5 teams and three Year 6 teams. More info to come.
On Friday 15th August Belle, Holly, Rosie and Annie spent the day at the Great Lake Centre with schools from all over the Waikato and Bay of Plenty. They took part in dance and choreography workshops and then performed in the evening. The girls have been practicing since Term 2 and did extremely well. They were the youngest group in the competition and won an excellence in choreography award and won their section. They will now travel to Palmerston North on the 27th September to compete again in a larger pool of children their own age. Well done girls - we are so proud of you!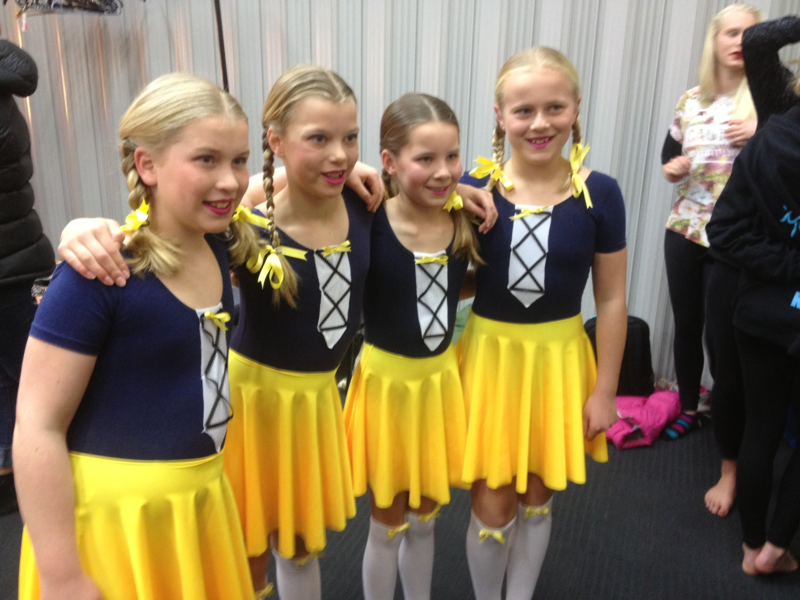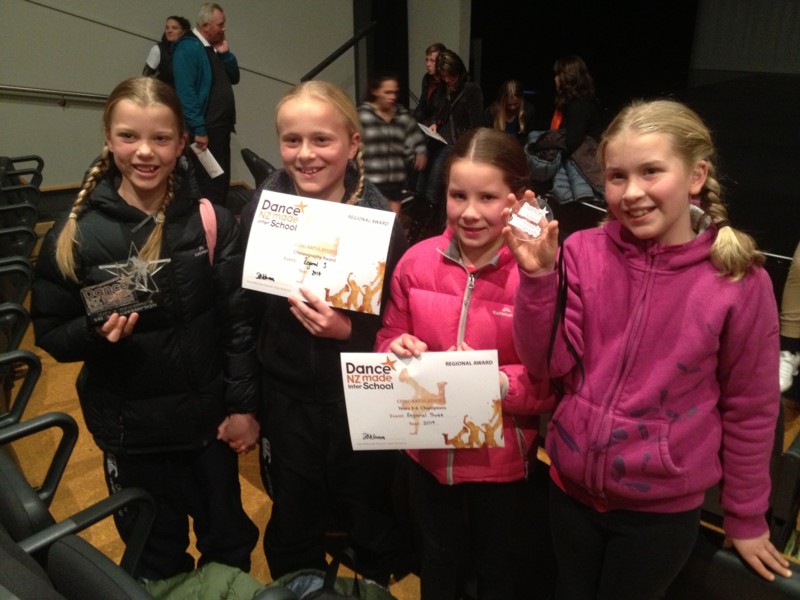 "I loved the workshops, especially the Cirque one. I found the contemporary workshop challenging" Annie
"I really liked the Choreography and Cirque workshops. I can't wait until the Palmerston North competition so there will be more of a challenge competing against other teams." Belle
"I felt like I was myself and I wasn't being forced to do anything out of my comfort zone. Everyone was so nice and helpful. I enjoyed watching the other performances. I learnt some new techniques and I am really looking forward to the Palmy competition." Holly
"The choreography class was a bit challenging. I especially liked the Cirque and Contemporary class. I am proud of what our group did and I am looking forward to Palmy." Rosie
Gate Timetable 2014
Group

Term 1

Term 2

Term 3

Term 4

Literacy

Stu Duval Storytelling sessions

(x3 sessions) Thursday 3rd April

Workshops with children Friday 4th April (x3 sessions) $4.50 per child

ICAS Writing Test – Monday 16th June

ICAS Spelling Test – Tuesday 17th June

ICAS English Test – Tuesday 29th July

Mediaworks Spelling Bee (Sept/Oct)

The Olden Days – writing group with Amy

Sports

Hockey – GATE & Taster sessions for classes

Monday 10th, 17th, 24th Feb

The First Tee class programme (Year 6 begins week 2 Rms 18, 19)

League Kiwisport Coaching Sessions

(Week 5 Tuesday and Thursday)

Rippa Rugby Tournament Taupo Comp – Monday 31st March (coaching Monday and Wednesday weekly)

Rippa Rugby Tournament King Country Comp – Thursday 10th April

Inter-school Athletics

Wednesday 4th April

T-Ball Tournament – Weds 16th April

The First Tee class programme

(Rooms 16 & 17)

Volleyball Kiwisport Coaching Sessions

(Week 3 Tuesday 20th May)

Kiwisport Golf Coaching Sessions

Week 9 – Tues 1st & Weds 2nd July)

Kiwisport Rugby Coaching Sessions

Kiwisport Gymnastics

Tuesday 29th & Thursday 31st July

Kiwi League Tag Tournament

(Te Awamutu)

Tuesday 2nd September

Junior Tough Guy/Gal Challenge

Friday 8th August (Rotorua)

Kiwisport Badminton

Tuesday 12th and Wednesday 13th August

Inter-school Cross Country

Wednesday 10th September

Dance NZ Made Inter-school

Friday 15th August (Great Lake Centre)

Kiwisport League

Thursday 14th August

Thursday 21st August

Inter-school Swimming

Science/

Technology

Enrichment Tasks given to teachers

Seismology Day at GNS

(Cynthia & Amy)

Wednesday 9th April

ICAS Computer Skills Test – Tuesday 20th May

ICAS Science Test – Wednesday 4th June

Bluelight Commercial Competition

(with Richelle)

Tuakana Science Group - with Mark Gibson

Technology Challenges (CRT)

Kids Can Cook Kitchen

6th & 7th November

($3 per child 60 minute session)

Parent evening on "How to get your children to eat green snotty vegetables"

(60 minutes) $5 cover charge per adult

Science Expo – Sarah Keehan

Arts

Senior CRT – Self Portraits

OKKREW performance and 90 minute workshop (30 students) – 16th April 11.40

OXFAM Banner Competition (with Amy)

PD for Staff – Painting Workshop

(Wednesday 21st May 3.30-5.30)

Senior CRT – Roimata's Cloak

Senior CRT - Heritage – links with Pepeha. Where have we come from?

Senior CRT – Technology Challenges

Numeracy

Kanikani Pangarau –Juniors with Benior Midwood-Murray (learning maths through Te Reo Maori and Dance

Maths maps see model

- GATE Maths activities from NZ Maths Website

http://www.nzmaths.co.nz/investigations

Maths Matters

ICAS Mathematics Testing – Tuesday 12th August

Cultural

Kanikani Pangarau –Juniors with Benior Midwood-Murray (learning maths through Te Reo Maori and Dance

Tuwharetoa Festival

Leadership

· The First Tee in conjunction with sport (Rms 18 & 19)

· Leadership Day – Thursday 15th May (Year 6s)

· The First Tee in conjunction with sport (Rooms 16 & 17)

· Halogen (NYLD) course Rotorua

(Cushla, Amy + 2 children

Monday 9th June - 9.30-2.30

· Leadership Week 27th June – 4th July)

· Sir Peter Blake Young Leader Award

(Taine Hakiwai) (Monday 21st July)

Leadership Day – Thursday 23rd October (Year 5s)
Congratulations!!!!!
A huge congratulations to Taine who has been nominated for the Sir Peter Blake Young Leader Award. Well done Taine we are very proud of you!